Maggie Anton visited Temple Beth Emeth Oct 27 and 28th.
A Talmud scholar, Ms. Anton's research into Talmud and women in ancient times, has led to two historic series: Rashi's Daughters and Rav Hasid's Daughter.
Purchase Books by Nov 3 and we can get them signed
Her latest book is 50 Shades of Talmud: What the First Rabbis Had to Say about You-Know-What.
In this lighthearted, in-depth tour of sexuality within the Talmud, come eavesdrop at the first rabbis' locker-room door as they discuss every aspect of sexual relations—how, when, where, with whom—often in startlingly explicit fashion. Author Maggie Anton reveals how Jewish tradition is more progressive in many respects, and more bawdy, than one might think. 2017 Winner of the IBPA Benjamin Franklin Gold Award Winner in the Religion category
$7.00 (3 for $20.00)


Rashi's Daughters

The engrossing historical series of three sisters in eleventh-century France continues with the tale of Miriam, the lively and daring middle child of Salomon Ben Isaac, today known as "Rashi". Having no sons, he continues to teach his daughters the intricacies of the Talmud in an era when educating women in Jewish scholarship was unheard of.

Book I: Joheved
In 1068, the scholar Salomon ben Isaac, today known as "Rashi," returns home to Troyes, France to take over the family winemaking business and embark on a path that will indelibly influence the Jewish world—writing the first Talmud commentary, and secretly teaching these intricate discussions of Jewish law to his daughters. Joheved, the eldest of his three girls, finds her mind and spirit awakened by religious study, but knowing the risk, she must keep her passion for learning and prayer hidden.
$15.00


Book II: Miriam
Miriam, emboldened by her knowledge and mourning the death of her betrothed, is determined to become not only the community's midwife, but also their mohel—performing circumcisions. As devoted as she is to her chosen path, she cannot foresee the ways in which she will be tested and how heavily she will need to rely on her faith. And when a shadowy new suitor arrives in Troyes, an exceptionally learned and handsome young scholar who struggles with a secret that, if revealed, would expose them both to ruin.
$15.00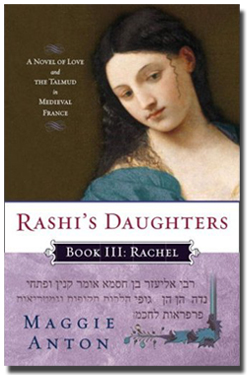 Book III: Rachael
Rachel is the youngest daughter of Salomon ben Isaac, or "Rashi." Her father's favorite and adored by her new husband, Eliezer, Rachel's life looks to be one filled with peaceful scholarship, security, and love. But events beyond her control will soon threaten everything as the marauders of the First Crusade massacre nearly the entire Jewish population of Germany, and her father suffers a stroke. Eliezer wants their family to move to the safety of Spain, but Rachel is determined to stay in France and help her family save the Troyes yeshiva, the only remnant of the great centers of Jewish learning in Europe.
$15.00
Set of all 3 Rashi's Daughters $40.


Rav Hisda's Daughter


Book I: Apprentice: A Novel of Love, the Talmud, and Sorcery
Hisdadukh is one of the most frequently mentioned women in the Talmud. Her story, set in the household of the 3rd century Babylonian sage, unfolds as the Talmud is being created by her father, his colleagues, and their students. The world around her is full of conflict. Rome, fast becoming Christian, battles Zoroastrian Persia for dominance while Rav Hisda and his colleagues struggle to establish new Jewish traditions after the destruction of the Holy Temple. Against this backdrop Hisdadukh embarks on a path to become an enchantress in the very land where the word 'magic' originated. $15.00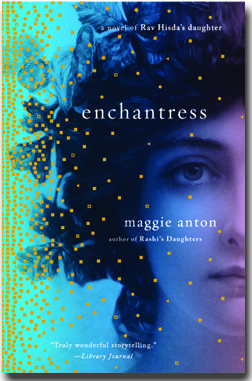 Enchantress
Fantastic tales of demons and the Evil Eye, magical incantations, and powerful attractions abound in Enchantress, a novel that weaves together Talmudic lore, ancient Jewish magic, and a timeless love story set in fourth-century Babylonia.
$15.00
These books will be pre-signed if this order and check is received in temple office by Friday Nov 3. Order Form

More information can be found at http://www.maggieanton.com/.
Books can also be purchased at Amazon and found in the TBE and public libraries.